This is a guest post by Tuyen Nyugen.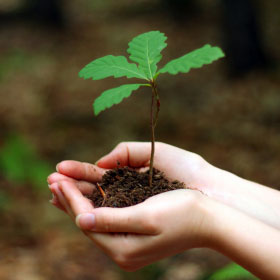 Our project was to find out the relationship between trees growth with the soil pH. We measured the relationship between soil pH and tree growth. We did this by altering the pH of the soil the trees are planted in. The relationship was established by correlating tree growth for seven months to soil pH. "Does soil pH have any correlation with a plants ability to grow or survive" in an area is the question that we intended to answer. Our hypothesis was that high soil acidity will act as a retardant for plant growth. Agriculture is used worldwide as a means of survival for many people. This project makes it necessary to understand optimum living environments and conditions for vegetation.
We started to plant 3 different types of trees, three of each (for a total of nine) Weeping Willow, Eucalyptus and Royal Empress (all common and fast growing trees which would). We planted one type with pure potting soil (Control, C trees), we planted a second set with nine liters of sphagnum peat moss and eighteen liters of potting soil (Slightly acidic, S trees) and we planted the final set with eighteen liters of  sphagnum peat moss and nine liters of potting soil (Highly acidic, H trees). All trees were planted with the above mixture ratios and 50% indigenous soil. We watered the trees with ten liters of water weekly and measured the tree height and circumference once every two weeks. As our expectations predicted, we found that pH level effects were species dependent, and that lower pH soil did have slower growth rates. In fact the Eucalyptus tree planted in highly acidic soil died and the highly acidic Royal Empress was alive but with a near zero growth rate. Only the Weeping Willow continued to grow.